MARTINSVILLE, VA, USA, September 29, 2023 /EINPresswire.com/ — GENEDGE, Virginia's best public resource to help existing manufacturing and industry innovate, compete, and grow, is pleased to announce that Elisabeth Mazza has been hired to serve as the organization's CONNEX Marketplace Manager.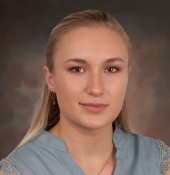 As CONNEX Marketplace Manager, Elisabeth "Maz" Mazza will maintain and facilitate the use of GENEDGE's CONNEX manufacturing portal. She will help Virginia manufacturers connect with new business opportunities, supply chain resources and expertise. She will manage supplier scouting requests initiated through the MEP National Network. Elisabeth also will identify gaps in Virginia's manufacturing industry clusters. Maz will represent the CONNEX Virginia Marketplace portal resource to statewide trade associations, industry groups and manufacturers.
Her new position is funded through a $400k cooperative agreement with GENEDGE from the U.S. Department of Commerce's National Institute of Standards and Technology's (NIST) Hollings Manufacturing Extension Partnership. An active reservist with the U.S. Army National Guard, she serves as transportation officer, maintaining health, welfare and combat readiness of platoon personnel as well as implementing safety standards and technical/tactical training standards, among other responsibilities. Maz received a bachelor's degree from Johnson & Wales University and is currently enrolled in the school's master's program in logistics and supply chain management.
"We welcome Elisabeth to our talented statewide team," said Dean Young, Vice President of Business Transformation at GENEDGE. "She is an outstanding professional who has embraced GENEDGE's mission to support the successful growth of industrial businesses throughout Virginia."
About GENEDGE: GENEDGE is Virginia's best public resource to help manufacturing and industry innovate, compete, and grow. GENEDGE delivers consulting-based expertise and technology transfer to over 200 Virginia companies each year and is part of the Manufacturing Extension Partnership National Network™, which provides access to industry-wide services and proven, results-based solutions.
For more information, visit www.genedge.org.