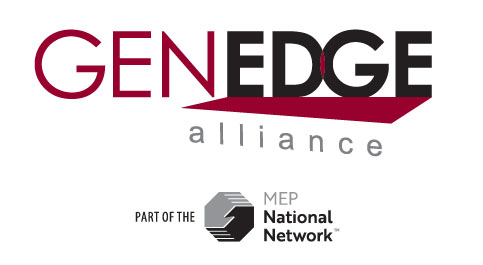 GENEDGE Alliance supports the growth of all manufacturers but recognizes that small companies in particular have different challenges when trying to grow. These Emerging Businesses have more limited time and resources to spend developing approaches to growth and ensuring they have the basic elements in place to support success.
GENEDGE Alliance now offers online, accessible training paths to help Emerging Manufacturers have the knowledge and support to achieve their business objectives. These modules cover the basic building blocks of a successful manufacturing enterprise with a focus on addressing the unique challenges faced by these emerging manufacturers.
Modules are available at the low cost of $49/person, or sign up for the series and get them all for one low cost of $129/person:
As a GENEDGE Alliance member you will receive a special discount, click here to sign up!
(includes the following modules)

Financial Statements Growth Track
GENEDGE's Financial Statements Growth Track is a valuable resource for gaining basic knowledge about financial statements. Financial statements are critical documents that provide insights into the financial health of a company, including its revenue, expenses, assets, and liabilities. Understanding financial statements is especially important for manufacturing businesses, as they require significant investments in equipment, inventory, and supplies. By gaining a better understanding of financial statements, businesses can make informed decisions, manage their cash flow effectively, and identify opportunities for growth.
Lean for Growth
GENEDGE's Lean for Growth is a convenient and cost-effective way to gain introductory knowledge about process improvement using Lean tools. Lean is a methodology that focuses on optimizing processes, reducing waste, and improving efficiency in manufacturing. There are various Lean tools that business owners can use to achieve these objectives, such as Value Stream Mapping, Kaizen, and 5S. By learning about Lean tools, manufacturers can identify areas for improvement in their manufacturing processes, reduce costs, enhance the quality of their products and services, and increase customer satisfaction.

Quality Certification – An Introduction to ISO 9001 for Small to Medium-Sized Manufacturers
GENEDGE's Quality Certification course is tailored for small to medium-sized manufacturers, emphasizing ISO 9001. Learn at your own pace about quality management, empowering your business to become more efficient and customer-focused. Certification not only demonstrates your dedication to quality but also helps you attract more customers and strengthen your business relationships.
Don't see exactly what you need?
Contact us and we can customize a training package for your company's specific needs.