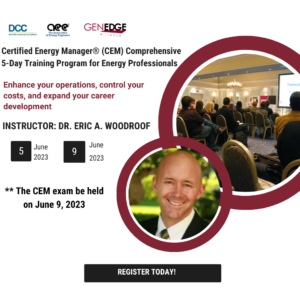 Certified Energy Manager® (CEM) Comprehensive 5-Day Training Program for Energy Professionals
***After submitting your registration for the in-person training in Danville, a separate CEM application must be completed for the June 9th exam.***
Enhance your operations, control your costs, and expand your career development. 
A comprehensive, detailed instructional program covering the full scope of technical, economic, and regulatory components of effective energy management.
This is the course that will empower you to "put it all together" and get the results your company expects. Comprehensive in scope, this five-day program takes you systematically from the underlying fundamentals to the specific "how to's." This week-long program of instruction covers the specific techniques necessary to maximize your effectiveness as an energy manager, vice president of operations, or facilities manager. The optional Certified Energy Manager (CEM®) examination will be administered at the conclusion of this program (separate application required).
Beneficial for any professional seeking to: Become a good (or better) energy manager. Take and pass the CEM exam. Know what energy management can do for their company. Know what to expect from energy management consultants.
This course is ideal for:
Building Supervisor
Electrical Engineer
Environmental Manager
Maintenance Manager
Plant Engineer
Program Manager
Director of Public Works
Engineering Manager
Industrial Engineer
Mechanical Engineer
Process Engineer
Program Manager/Account Manager (Utilities)
Fees includes:– Energy Management Handbook- Proctored exam on fifth day of training (Friday 8 AM – 12 PM)- Cost of the CEM application and exam ($400 value)- Break beverages/snacks and daily lunches.
After submitting your registration for the in-person training in Danville, a separate CEM application must be completed. 
For Helpful Resources & The CEM Application Form Go To:
https://www.aeecenter.org/sites/default/files/certification/CEMHandbook.pdf 
For the Friday 06/09/2023 in-person exam, you must bring a hand calculator to the exam since the CEM test does not allow computers, tablets or cell phones to be used for calculations on the test.
The cost of the exam and application fee ($400 value) and  is included in the registration fees stated above to attend in the in-person training in June.
For information or questions about the CEM training please contact:
Philip Kauneckas (434) 773-4401 pkauneck@itape.com
Mark Custer (434) 489-9683 mcuster@blueridgefiberboard.com
Qualified Manufacturers & Utility Employees Can Get A GENEDGE Scholarship (50% Discount) For Training – Please contact Connie Sharpless to obtain the scholarship code: 804-382-3752; csharpless@genedge.org.
Co-sponsored by: GENEDGE Danville Community College Danville Chapter / Association of Energy Engineers (D-AEE)
For Helpful Resources & The CEM Application Form Go To:
https://www.aeecenter.org/sites/default/files/certification/CEMHandbook.pdf