Wei Zhang can speak about the advantages of GENEDGE as both a client and a service provider.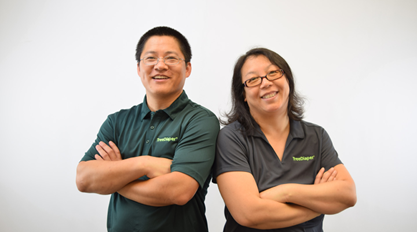 Zhang and his wife, Hailing Yang, Ph.D., founded TreeDiaper in 2010. He is the vice president for research and development. And she is the president and CEO of the Ashland-based company that operates under Zynnovation LLC. Their business makes a plant protection system that absorbs rain, snow, or irrigation water. And then slowly releases it to the roots as the soil dries, saving water and labor costs.
Zhang shared his experience with GENEDGE at a May 18 roadshow in Ashland, held at the Dominion Energy Innovation Center. His company was based there before it moved to the Hanover Air Park for more space.
"The people at GENEDGE have this incredible network and can call all these people who can help," Zhang said. "It's an amazing resource."
Keynote speaker Todd Haymore, Virginia's former secretary of commerce and trade and secretary of agriculture, called Zhang "a model of the work that goes on with GENEDGE and the successes that come out of it."
Zhang's relationship with GENEDGE began in 2006 when he was working at the Institute for Advanced Learning and Research in Danville as a research scientist. He worked on a project in Martinsville with Applied Felts Inc.  After starting his own company, Zynnovation, Zhang signed up as a third-party service provider of GENEDGE. Once Zynnovation established a wet chemistry lab.  Without interfering with its core business, Zynnovation has provided technical services to several other manufacturers in Virginia with its expertise in polymer chemistry and polymer engineering.
In 2022, Zynnovation became a client of GENEDGE as part of the GO Virginia – Retooling Virginia Manufacturers for Strategic Industries Program. The in-house experts and third-party service providers have provided valuable resources for Zynnovation to manage growth.
The couple came up with the idea after the birth of their daughter Virginia, who was named for the state in which he and his family have enjoyed so much success, thanks to hard work and a determined entrepreneurial spirit.
Yang is a polymer chemist and he is an engineer. As a chemist, Zhang said, his wife "knew the materials in the diaper are a polymer material. And she wanted to know if anybody recycled baby diapers." The answer was no – they typically end up in trash and landfills. So, the couple successfully wrote a grant proposal to the National Science Foundation to research the challenge of recycling, upcycling, or reusing disposable diapers. While they were able to separate the raw materials, they weren't able to sell them.
However, from their research, they came up with the idea for a product that could absorb water around a plant and gradually release it when the soil dries. The product is not currently made from recycled diaper materials, though the company continues to pursue that research. TreeDiaper also is known as SteadySpring, which Zhang calls "a second brand for people who don't like diapers." They are proud to sell an American-made product.
Because he's also a service provider for GENEDGE, he receives calls from clients looking for help with their projects. If he can't answer their questions, he knows it could likely be answered in the database.
His company, with five employees, has reaped the rewards of working with GENEDGE. Zhang encourages other small manufacturers to join the GENEDGE Alliance and tap its vast network of experts. "They are an excellent resource."