In the world of small manufacturing enterprises, marketing can seem like a foreign language, but Mike Levy is committed to showing how "it's just like manufacturing."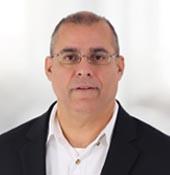 Mike Levy, GENEDGE Alliance's Business Services Director – Growth, understands the marketing challenges companies face. He regularly encounters intelligent, data-driven individuals focused on running machines, assembly lines, and production processes who aren't well-versed in concepts like branding, company personality, and social media. However, Levy recognizes the immense potential of research-based marketing and aims to illustrate its prospective nature to Virginia's small manufacturing companies.
With GENEDGE Alliance, Levy holds a vital lead role in helping to launch and manage statewide programs, such as Re-Tooling Virginia Manufacturers for Strategic Industries. He has achieved Lean Six Sigma Black Belt certification; Innovation Engineering Black Belt certification; TDMI certification; Tech Scouting certification; Core Consulting Skills Certification; and PMP certification. His specialty is market planning.
When Levy enters a small manufacturing enterprise, his primary objective is to establish GENEDGE Alliance as a credible and accountable marketing resource. He emphasizes that marketing is not merely advertising but a process akin to their production operations. "I teach them that marketing is a process with production variables," he said. "It has things that go into the process and things that come out. Typically, they've never heard anyone talk about marketing in this manner."
Part of this pathway to comprehension includes assessing the company's current marketing strategies, measurements, and historical analytics. By outlining the process-oriented nature of marketing, he seeks to permanently shift a company's perspective and adequately demonstrate the parallels between marketing and their core operations.
Research, planning, and execution are the sound principles of effective marketing, according to Levy. Competitive analysis plays a crucial role in the research phase. It involves identifying the attributes that competitors vie for when addressing customer frustrations and problems. A result of the competitive analysis is the Perceptual Map, a graphical representation of competitors' positions and positioning statements, to help identify an advantageous positioning strategy for clients.
This flows into forecasting in which Levy employs the basic forecasting model of ATAR — Awareness, Trial, Availability, Repeat. "The competitive analysis and ATAR forecasting, many companies have never done this before and it's usually a game changer," he explained. While the full process typically takes one year to complete, it can provide substantial long-term returns.
An impactful part of the process is when he engages potential customers in front of his clients. By simulating real interactions and conducting pilot calls, Levy generates leads for the company on the spot. "One company I worked with had been trying to get into a large original equipment manufacturer (OEM) business for five years and they'd never made any progress. With one phone call, I was able to secure them a very interested lead that progressed to the vetting stage. That's potential revenue for this client that could possibly reach $1 million over time."
Through intentional lead generation and subsequent automation, Levy was able to energize their marketing in a meaningful and measurable way. "This is who we are," he said. "And there's no one doing what GENEDGE Alliance is doing in this comprehensive fashion."
Learn More About Mike HERE